1 night – 2 days
COOKING CLASS AND VISIT FOR FAMILIES WITH CHILDREN IN THE LANGHE.
DAY 1, Saturday
Expected arrival at the farmhouse by its own means around 10 / 10.30. where the course is held . Once arrived you will be greeted by an expert chef, in her renovated farmhouse in the Piedmont countryside. After a brief explanation, you will start your course in a simple setting and friendship, where you will discover the secrets of Piedmontese cuisine, cooking some of these dishes including a appetizer, first course, main course and dessert. The course lasts an average of three hours and at the end you can eat what you have cooked.
In after lunch, stop at the farm to rest and to enjoy the scenery and tranquility of the countryside. In the afternoon we suggest a visit to the town of Bra, home of the Piedmont Baroque and rich center history, culture and culinary excellence. To make the children happy we suggest a visit to the Museum Toy and a stop for a sweet snack in one of the historical places in the town center.
Alternatively, we suggest you visit the city of Cherasco, known as the city of starry walls and studded with precious monuments, churches, buildings and decorative structures. To make the fun afternoon to the children we propose the view to the Magic.
In the late afternoon transfer to chosen hotel and overnight stay in the apartment.
DAY 2, Sunday
Left the apartment, we recommend a route among the rolling hills of the Langhe. Memorable stop in La Morra for a pleasant stroll through the historic center to the viewpoint, the balcony of the Langhe.
From there you can enjoy a spectacular view, seeing some profiles of the castles that rise on the tops of these magical hills and the famous Cedar of Lebanon, ancient tree with more than 150 years. Up next we recommend a tour to the giant benches, large stained benches scattered among the sights Langhe.
Lunch at the farm recommended in the area.
In the afternoon transfer to Alba, capital of the Langhe, and visit the town. It will amaze the elegance and the liveliness of this medieval town, with its towers, its cathedral and flavored chocolate that will not forsake you throughout your visit.
Alternatively, in the afternoon we recommend truffle hunting, outdoor adventure, including oaks,beech and hazel, in the truffle dog and the Trifolao, that will show you the methods of collecting and storage.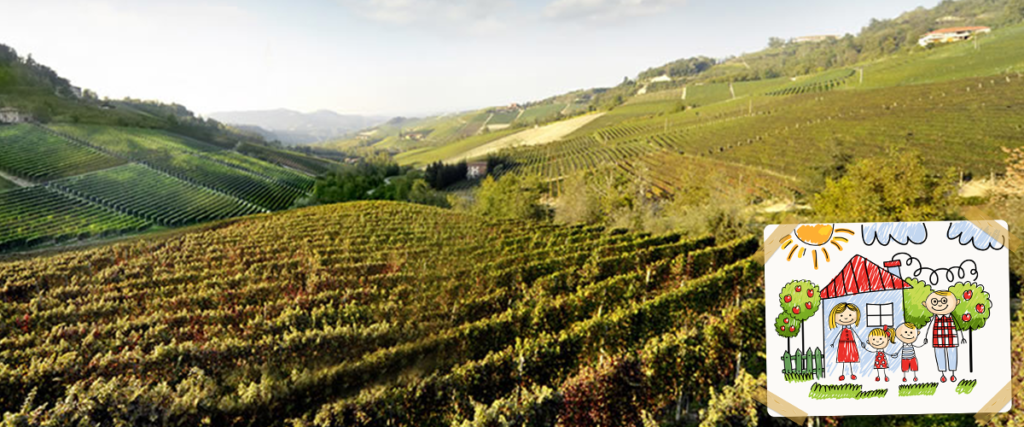 PRICES FOR FAMILIES FOR COOKING AND NIGHT IN APARTMENT:
Quote for 2 adults and 1 child
LOW SEASON: € 395.00
HIGH SEASON: € 430.00
Quote for 2 adults and 2 children
LOW SEASON: € 435.00
HIGH SEASON: € 470.00
Low season: from 02/01 to 09/04; from 06/06 to 10/09; from 13/11 to 20/12
High season: from 10/04 to 05/06; from '11/09 to 12/11; from 21/12/17 to 02/01/2018
Subscription fee – euro 15,00 each person
THE PRICE INCLUDES
medical and baggage insurance
Accommodation in apartment
Cooking class
Lunch prepared dishes
Lunch at the farm on Sunday (on consumption Children)
NOT INCLUDED
Transport
The snack at a local historic town
Admission to museums
Supplement for truffle hunting if interested
Tourist tax if applicable
Anything that does not appear in "the price includes"
Supplement to the Truffle 150 EUR Hunt for simulation