La Strada del Barolo), winds through the towns of Alba, Barolo, Castiglione Falletto Cherasco, Diano d'Alba, Dogliani, Grinzane Cavour, La Morra, Monchiero, Monforte d'Alba, Mont Albert, Novello, Roddi, Roddino, Rodello , Serralunga d'Alba, Sinio and Verduno: one of the most fascinating landscapes in the Piemonte region.
A Green Road where in addition to the respect the natural environment of the structures and companies, it's requires the same respect also from the visitors that must keep a virtuous behavior, like such as prefer the natural tap water, and the use of tablecloths paper and not plastic: a harmony with nature.
Within this historical context of the Langhe, they are located in the municipalities of La Morra and Barolo's, we find vineyards Dosio, which is synonymous with passion, real passion for wine that remained unchanged over time.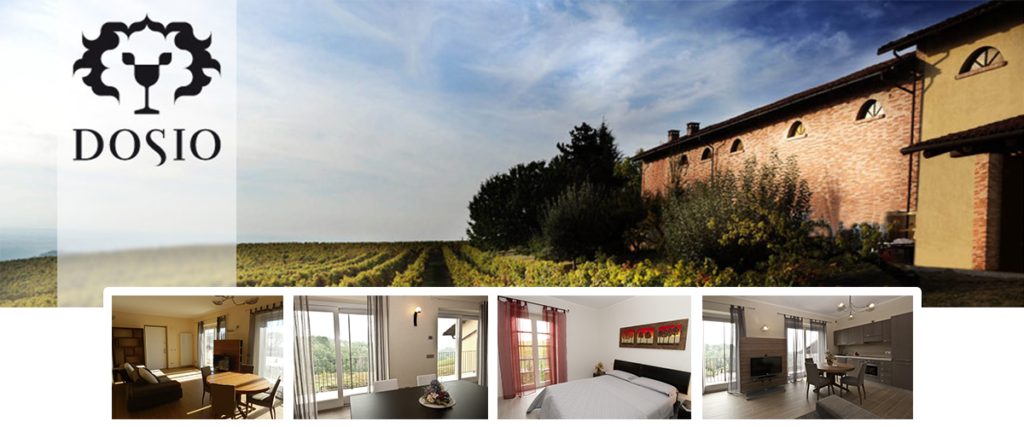 The company was founded on an existing farmhouse, dating back to the mid-eighteenth century, as can be seen from the ancient beams brought to light in the tasting room. Taste the products of excellence, in the fully underground cellars maintained on the original, is a unique experience, both for the excellent quality of products, that for both captivating and unique environment. In them, the visitor follows the exact path that makes the grapes to become wine.
And to live in its entirety this wonderful experience, you can stay in apartments with all modern conveniences, that are located within the company itself. We are sure that after staying in this context, will fire the spark of love for these wonderful places, where it seems that time has stopped.
PRICES:
Apartment accomodation: 140,00 € each night
Subscription fee: 15,00 each person